Oceanfriendly straw
CHF706
of CHF230,000 goal
Raised by
13
people in 1 month
VERSIONE ITALIANA IN BASSO
I am an italian PhD biologist with 20 years in Consumer Products, Pharmaceutical and Not For Profit Industries (
linkedin_gabriellasilvestri
 ).
I am now acting as consultant to support a NGO in the Indian Ocean raising money to launch a local production of organic, biodegradable and reusable straws to replace the single-use plastic straws.
The budget is needed for the establishment of the bamboo plant by end of October 2018. 
An initial investment was used to successfully pilot a small scale production and feasibility assessment. The bamboo straws' design from Rodrigues is registered at the Industrial Property Office in Mauritius.

It is proved that bamboo plant growing spontaneously in the island, is suitable for the production of straws; the organic natural bamboo solution to plastic straws represents an excellent solution to take the world on a plastic free path (for ocean preservation resulting ultimately into a more global welfare).
Only this island contributes drastically to ocean's pollution by plastic.
Plastic straws are non-essential part of our life, and yet they cause so much damage to the environment. 
A small, plastic straw – It's something that comes with most beverages that we order, from soft drinks to even a glass of water.
In Rodrigues Island, its use is even more spread due to the need of drinking coconut water out of fresh coconuts.

112'000 straws are dumped in Rodrigues per year only in relation to the coconuts consumption. Considering that the market in Port Mathurin has started in 2011, and taking into account the past 7 years, the number of straws dumped in the ocean increases to over a million.


This number isn't even mirroring the gravity of the issue given that it is almost impossible to estimate the straws used in restos, lodges, hotels and boutiques.
Plastic straws take up to 200 years to degrade, but will never be fully off the Earth, as plastics are not biodegradable. To make matters worse, the degrading of plastic releases chemicals that are toxic to wildlife and the environment. 

Whenever there is an ocean coastline cleanup, plastic straws never fail to make it on the list of one of the most found ocean litter.

All these straws and plastic polluting our oceans is having a negative impact on marine life.

It's likely that the sea turtle accidentally swallowed the straw, and then had it stuck up its nostril while trying to cough the straw out.

Straws are also especially dangerous to seabirds, as they can be easily picked up and swallowed, suffocating and choking the bird. In fact, over 1 million seabirds die each year from ingesting plastic. This being said, straws enter our food cycle when fish ingests the microplastics. An estimated 71% of seabirds and 30% of turtles have been found with plastics in their stomachs. When they ingest plastic, marine life has a 50% mortality rate. Below a straw in the stomach of a fish.

What would our oceans be without marine life?

Looking at the Western Indian Ocean geography (Comoros, France, Kenya, Madagascar, Mauritius, Mozambique, Seychelles, Somalia, South Africa and Tanzania), there is a clear regional strategic action programme to achieve the SDG plan of action for 2016-2030 in the ocean sector that would be supported by this initiative.
In fact, the project is going to support the  achievement of Sustainable Development Goals (SDGs) 2030 Agenda through UN partnership (SDG 14 directly related, SDG 8, 11, 12, 13 and 17).
Below the Commissioner for the environment commits to the ban of the plastic straws once the replacement in bamboo will be available.

The NGO called Care-co is a Rehabilitation and Production centre that is set up as a Non Profit and registered in Mauritius. 
People with disabilities are given training and employment with full remuneration and all the conditions of work laid down by Government regulations. These include wage, sick and local leaves as well as end of year bonus, fares and medical expenses paid.
In 2009 Honey from Care-co was awarded First Prize at the National Honey Show UK. It was a finalist in the BBC, Newsweek, and Shell World Challenge for innovative enterprises worldwide.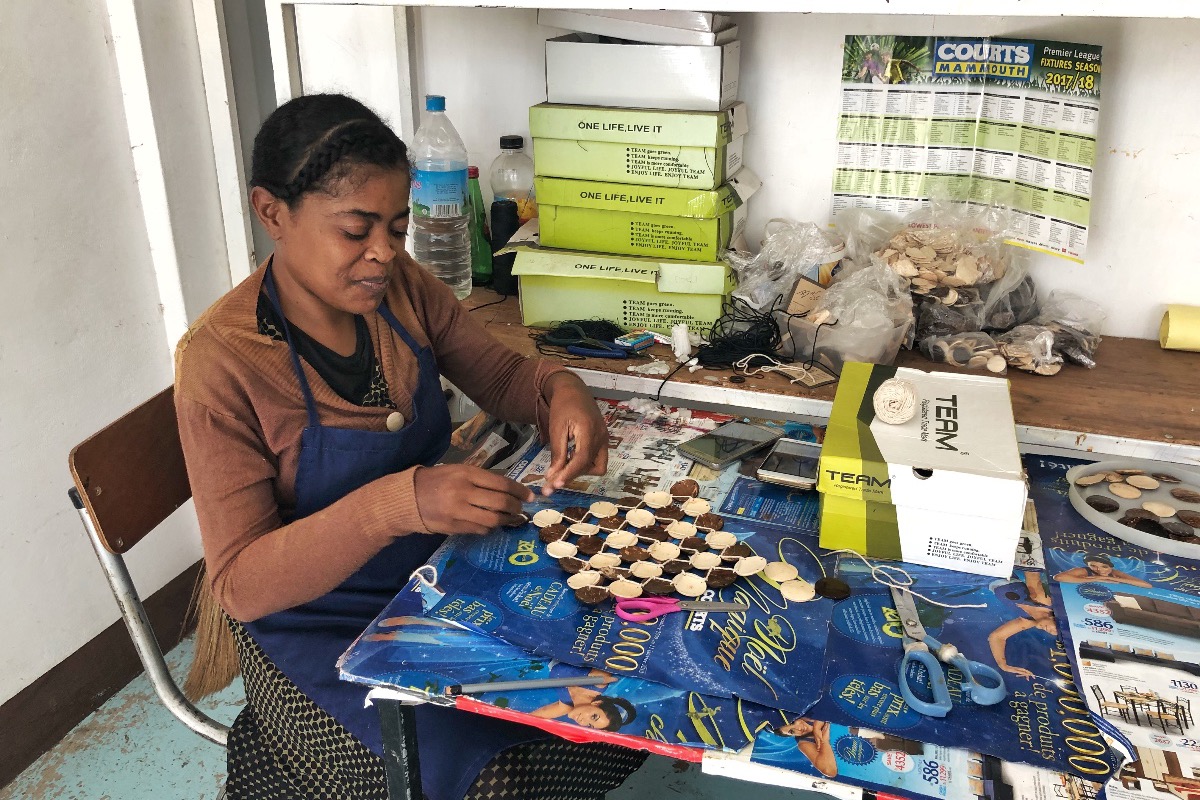 Currently there are only 18 persons with disabilities, full time employed on a time reduced working week due to lesser funding.
Some are hearing impaired, others are visually impaired or have physical or mental disabilities.

There are currently three departments.
The handcrafts department produces a range of products made from Coconut shells. Another department makes beehives and a range of beekeeping equipment as well as chain link fencing. The third department is the one reserved for honey production.
The project is aligned with Government Policy that aims at making Rodrigues as an ecological island.

 The island is a tiny little jewel (18 x 8km= 108km2) off the Northeast coast of Mauritius, with a population of 38,000 people. The island leaves an indelible impression on visitors as it has another worldly feel to it and has managed to retain a lifestyle of earlier, less hectic times.
There aren't many places left in the world so very remote and little known. Over the years the local government together with its people have made a great effort to restore some of the forest areas which have been declared as nature reserves.

With the untiring efforts of the locals, the island is slowly turning into an ecological haven, where conservation is on the top list of the government agenda. Some of the non-profit organisations, and the local communities collaborate with the local government to work together towards building a sustainable green Rodrigues.
Budget is needed for the following areas:
·     Training on environmentally-sustainable technique for the production of straws;
·     Minimum local wage for the employment of people with disabilities (at least 20);
·     Adaptation of current facility for the added bamboo production;
·     Bamboo plantations and proliferation (additional wages required for land maintenance);
·     Utensils and machines needed for production;
·     Creation of a production and distribution network, initially selling to locals and then regional
      customers;
·     Scaling up production and partner network to sell the straws to environmentally-conscious
      enterprises on an international basis.
Each of us can contribute to make an impact and leave a positive footprint through our actions. 
I decided to dedicate my life to the humble individual attempt of changing the status quo hoping to honour the world we live in for the future generations to come.
There aren't words to neither quantify nor translate our appreciation to those of  you sensitive to this theme that are willing to help the project becoming a reality.
Below is a small note given to tourists visiting Careco shop: a heartfelt thank you for taking the time to read our story.


Hashtag campaign #biostraw4planet
Please feel free to contact me for any question and/or additional details: 
travel4thoughts@gmail.com
instagram
Project's details
facebook
Featured in:
Il Fatto Quotidiano
The Huffington post
Ecologia
Voglio vivere cosi'
One Planet rating
Video:
                                                                                  VERSIONE ITALIANA
Dopo aver lavorato per 20 anni in grosse aziende farmaceutiche come direttore di progetti per il lancio di nuovi medicinali sul mercato in diversi posti del mondo ed avere fatto volontariato in Africa per 6 mesi, ho cambiato carriera e mi sono dedicata a temi che sento molto vicino al mio cuore come biologa. 
Ho sempre viaggiato tutta la mia vita sia per scelta che per lavoro ed ho iniziato a promuovere tramite social media un viaggiare sostenibile in rispetto dell'ambiente e della cultura del posto.
E' cosi' che sono venuta a conoscenza dell'isola, dove mi sono scoperta essere un amante folle dell'acqua di cocco che si beve dai cocchi colti freschi sugli alberi dell'isola.
Da questo aneddoto, è nata la mia idea di progetto. Infatti ho iniziato a documentarmi e fare foto sull'inquinamento legato alla plastica nell'isola, in particolare modo quello dovuto alle cannucce in plastica.
Ho cosi' scoperto che piu' di un milione di cannucce sono andate a finire nell'oceano dal 2011 (quando e' cominciata la vendita di cocco al mercato dell'isola).
Mi sono adoperata a pensare un'alternativa biodegradabile e riusabile ed ho scoperto che il bamboo e' una pianta invasiva nell'isola che viene combattuta per questa ragione.
Ho pensato allora di utilizzare l'aspetto positivo ed il potenziale di questa pianta fabbricando delle cannucce in bamboo.
In tutto il mondo si consumano un miliardo di cannucce al giorno, 500 milioni al giorno solo negli Stati Uniti.
In Europa, invece, le cannucce sono tra i primi cinque rifiuti raccolti sulle coste. 
In alcuni paesi come Londra se ne usano circa 2 miliardi l'anno.
Le cannucce di plastica sono uno dei maggiori simboli della cultura usa-e-getta. 
Essendo solitamente realizzate in materiali non riciclabili, la loro permanenza nelle discariche è destinata a perdurare per decenni. Rinunciare al loro impiego costituisce soltanto una minuscola goccia nell'oceano, ma cio' che sarebbe importante è riuscire ad apportare modifiche al nostro stile di vita ed imparare a fare a meno di quelle cose di cui non abbiamo necessariamente bisogno nella nostra vita.
Questi oggetti minuscoli finiscono nell' oceano, dove restano per centinaia di anni, sminuzzandosi in pezzi sempre più piccoli dall'effetto dei raggi ultravioletti al vento, dalle onde ai microbi e alle alte temperature. Quindi è difficile stimare con esattezza quanto un singolo polimero impieghi a diventare microplastica. A prolungarne la frammentazione concorrono inoltre anche gli additivi chimici utilizzati durante la produzione che le rendono più resistenti ai raggi ultravioletti, fino all'impermeabilità. Inoltre, frammenti polistirene e microplastiche 
non degradandosi mai, rilasciano sostanze tossiche che entrano nell'atmosfera.
Ogni chilometro quadrato di oceano contiene in media 63.320 particelle di microplastica, con grosse variazioni a livello regionale (secondo il rapporto del Programma delle Nazioni Unite per l'ambiente UNEP).
Immaginate tanti granelli di sabbia che possono raggiungere dimensioni microscopiche inferiori ai 5 mm di diametro; questi oggi costituiscono una fra le principali cause di morte per soffocamento di molti pesci ed uccelli marini poiché vengono scambiati per cibo. Dopo essere state ingerite dalla fauna (in particolare da plancton, pesci, invertebrate, uccelli, squali e balene), arrivano al vertice della catena alimentare finendo nei nostri piatti.
Il 15-20 per cento delle specie marine che finiscono sulle nostre tavole contengono microplastiche secondo l'Ispra.
L'impatto è dunque diretto su di noi: gli inquinanti che finiscono nel nostro organismo possono interferire con il sistema endocrino umano fino a produrre alterazioni genetiche, e chissà quant'altro di cui siamo ancora ignari.
Il Mediterraneo è uno dei mari più inquinati al mondocon il 7 per cento delle microplastiche a livello globale. Inoltre ci sono cinque regioni oceaniche (gyres) dove, per via delle correnti, si accumulano le più grandi quantità di detriti.
Una cosa che mi ha stupito molto quando ero nell'isola è vedere delle reserve naturali, e dei veri e propri paradisi terreni, che pur essendo preservati e allo stato primitivo, risentivano dell'inquinamente allo stesso modo a causa delle correnti marini e della spazzatura trasportata da altre terre.
La raccolta fondi servirà al 'set-up' di una production line per fare le cannucce in bamboo in loco.
Questo verrà fatto con la mia leadership da una ONG locale che impiega disabili e che oggi lavora al miele ed ai gusci di cocco.
La realta' è che un mondo senza cannucce in plastica è un mondo ideale, concetto oltremodo  lodevole, ma non si puo' ignorare un'intera categoria di persone che sulle cannucce fa affidamento quotidiano: i disabili.
Le cannucce di carta si rompono troppo facilmente e quindi non sono adatte a liquidi caldi o viscosi, come potrebbe essere un medicinale. Le cannucce di metallo possono rappresentare un rischio serio di soffocamento e si surriscaldano troppo facilmente. 
Ho cercato di prestare attenzione a tutti gli aspetti del progetto per renderlo sostenibile nella sua interezza, ed è per questo che ho assicurato l'impegno di questa ONLUS all'introduzione del bamboo. 
Avevo conosciuto e visitato questa ONLUS durante il mio primo viaggio ed avevo comprato tutti i miei "ricordini" lì prima della mia partenza. Ero rimasta in contatto con loro anche dopo aver lasciato l'isola fino a quando sono ritornata per proporre loro il progetto, che hanno amato subito! Sono stati entusiasti intravedendo la possibilità di dare lavoro a tanti altri disabili in condizioni difficili. E sono stati felici di poter ricevere il mio aiuto perchè con i loro fondi e mano d'opera riescono a stento a gestire le loro attività e la piccola boutique dove vendono i prodotti artigianali.
Quindi il capitale dovrà essere utilizzato per le seguenti attività:
·            Formazione tecnica per la lavorazione di bamboo
·            Impiego di una squadra per lavorare a mano le cannucce
·            Impiego di una squadra per la piantagione e coltivazione sostenibile del bamboo
·            Macchine ed utensili
·            Lavori di costruzione per adattare l'edificio corrente alla production line
·            'Scale-up' della produzione per permettere l'esportazione al di fuori dell'isola 
Questo progetto rientra negli obiettivi della Nazioni Unite per l'agenda del 2030 dove sono elencati i 17 SDGs (sustainable development goals) a livello globale. Oltre ad essere biodegradabili, le cannucce in bamboo avranno un costo molto basso e competitivo perché fabbricate in loco e potranno anche essere esportate altrove, contribuendo così a migliorare la vita delle persone e a rendere il mondo un posto più pulito e sostenibile.
Una delle ragioni per cui la penetrazione di questo prodotto a livello globale è basso, è il costo elevato. Per esempio, avendo io voluto comprare delle cannucce dalla Svizzera, ho pagato una cannuccia 2 euro tramite una ONG che le prendeva da Bali. Il business model non è sostenibile, e se non ci sono incentivi da parte dello Stato è impossibile aspettarsi che ognuno di noi, invece che farsi servire una cannuccia al bar, decida di ordinarle per internet per portarsele dietro.
Ci vuole una cooperazione tra Stato e popolo, tra interventi legislative e campagne di sensibilizzazione, in una maniera simile a quello che è successo con i sacchetti in plastica.
La loro scomparsa non è ancora globale, ma laddove c'è stato l'impegno del Governo a bandirli, stiamo pian piano abituandoci a farne a meno e molti di noi vanno in giro con buste riutilizzabili ogni volta che si va a fare shopping.
Un' abitudine è una delle cose piu' difficile da modificare che non puo' essere cancellata solamente attraverso una presa di coscienza. Il problema deve essere affrontato su diversi livelli contemporaneamente.
Vi ringrazio in anticipo per tutto cio' che potrete fare nel diffondere questo messaggio e contribuire alle donazioni se questo è un tema vicino al vostro cuore.
GRAZIE
+ Read More