Memories' for Grace & Tommy
Our Amazing Grace
Hi, my name is Paula Allison. Thank you so much for visiting our page. I am the proud Aunt of Our Amazing Grace who was recently diagnosed with a rare Mitochondrial disorder. Myself, our family & friends are raising money on behalf of Grace, her big brother Tommy & her parents Kevin & Liz.
Backstory
Grace was born in March 2017 & lives in Dublin with my brother Kevin Dickson, my sister-in –law Liz Dickson (Cleary) & her big brother Tommy who turned 5 in December 2020.
Up until last year Grace was a very happy, healthy little girl. She was a great natured baby, always full of smiles & giggles. She developed normally, hitting all of her milestones. I say normally… she's bonkers! A great wee personality. Full of "craic" & mischief. A Tasmanian devil full of energy. She loves the Prodigy & Fire Starter, playing at Doctor, fixing her friends & toys & playing with her big brother & their dog Georgie.  In other words, she was what every toddler should be, no health concerns at all. In fact, it was her brother Tommy who developed problems. He has co-ordination issues & attends a physiotherapist. The specialists suspect Dyspraxia but they don't normally diagnose until around 7 years old.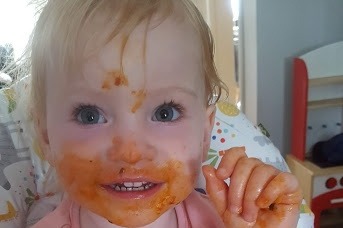 The Appearance of Symptoms
At the end of February, just before her 3rd birthday & whilst the rest of the world was starting to get to grips with a global pandemic & lockdown, Grace developed a squint, almost overnight. It was a shock at first because it appeared so quickly, but as her Daddy had a squint when he was a wee boy & her Granny when she was a child, we weren't overly concerned. Being the cautious, loving parents that they are, Kevin & Liz immediately took Grace to get checked out. Eye tests were done & everything looked normal, but then new symptoms started to develop. Her balance was off, she started to complain about tiredness a lot more & her once beaming smile started to look a bit different, a little lopsided. More tests were ordered. MRI's, CT scans, blood tests, DNA tests, the list goes on. Grace was a trooper, never complaining, even when she had to stay in hospital for a few nights in October for a battery of tests.
Diagnosis
On Monday the 14th of December Kevin & Liz were asked to attend a meeting with Grace's neurologist, the DNA results were back. Grace has an extremely rare Mitochondrial condition. It's a degenerative disease, there is no cure & it is
LIFE LIMITING
. We are devastated. It is every parent's worst nightmare.
Mitochondrial disease is caused by mutations in mitochondria, the tiny batteries in every cell of the body. They generate 90% of the energy that allows the cell to function. The batteries in Grace's cells are running out. 
How You Can Help
We don't know how long we'll have our beautiful Grace so we want to start creating the most amazing memories for her & her family right away.
My brother & his wife will be focused on creating a normal family life for Grace & Tommy, sending her to nursery when it is safe to do so & keeping her well. Even a minor illness could be devastating for her. Terrifying in these times of Covid. As the healthcare system in Ireland is very different to our NHS, Kevin & Liz will have to continue to work so they can try to manage Tommy & Grace's medical expenses as well as the usual household bills. Luckily, Liz's family in Ireland are amazing, very supportive & will help out any way they can… but we in Scotland so far have felt lost & helpless. We can't even visit just now. It's been over a year since any of us have seen Kevin, Liz & the kids. This has been hell for us but particularly torturous for my mum & dad. This page is our attempt to feel a little less powerless & more proactive.
Our hope is that by setting up the page, we can help bring some joy to their lives & relieve a little of their stress. Other than visiting us in Scotland they've never had a family holiday so we hope that we can eventually send them to Disneyworld maybe even Lapland for some quality time. We want Kevin & Liz to be able to put your donations towards adapting their garden for the kids & converting their outbuilding into a kind of "granny flat" so that when restrictions are lifted & they are able to have visitors, there is a place to stay so support can be given for as long as they need it & some respite can be given to Kevin & Liz. And, if finances do get strained at times, funds could also be directed towards medical expenses etc
If you would like to help us create some wonderful memories, support them through the most heart rending situation & provide some much needed respite, please share this page as far as you can, as often as you can & donate what you can when/if you can. We very much appreciate it & thank you from the bottom of our hearts.
I will run this page indefinitely & provide regular updates on Grace & the family & how your donations are being spent. There will also be exciting fundraising events & activities taking place when restrictions ease so stay tuned.
Thank you for reading. Stay safe, be kind & take care of each other.
 The Dickson, Cleary & Allison families.

Fundraising team: Our Amazing Grace & Wee Titan Tommy (4)
Paula Allison 
Organiser
Raised £4,340 from 69 donations
Kilsyth, Scotland, United Kingdom
Nichola Dickson 
Team member
Raised £550 from 19 donations
Christopher Dickson 
Team member
Raised £320 from 10 donations
Graeme Allison 
Team member
Raised £300 from 8 donations
No.1 fundraising platform

More people start fundraisers on GoFundMe than on any other platform. Learn more

GoFundMe Guarantee

In the unlikely event that something isn't right, we will work with you to determine if misuse has occurred. Learn more

Expert advice, 24/7

Contact us with your questions and we'll answer, day or night! Learn more