Dance for Change: Dzaleka Refugee Camp, Malawi
'Dance gives these people hope. Hope to be more than just a refugee. Hope to have a future. Life without hopes or dreams isn't a life worth living at all'.

We are raising money to get our film finished and give the dance community of Dzaleka refugee camp a voice so that heir talent can be recognised internationally.

Sadly due to the current pandemic, our friends in Dzaleka camp are taking the brunt of the economic strain on the country. They need acknowledgement and support NOW. We are committed to assisting the dance groups' work, and furthering their goals. We can do this through direct action.

All the money you donate goes towards the post production of our documentary and to immediate aid for the dance groups of Dzaleka.

Together we can help get this story out into the world.



BACKGROUND OF DZALEKA:

Dzaleka is the only permanent refugee camp in Malawi, located in Dowa district just 45km from Lilongwe, Malawi's capital city.
With a population of over 35,000 refugees and asylum seekers, mainly from the Democratic Republic of Congo (DRC), Rwanda, Burundi, Mozambique, Ethiopia and other countries, Dzaleka is diverse and rich in culture.

In Malawi, refugees do not have the right to employment, the right to property, or freedom of movement. This greatly limits refugees' ability to generate an income, restricts their freedom and prevents them from being able to attend cultural events.


 
WHO ARE WE?

We are two filmmakers from the UK who came together to collaborate with Hugo Producer (who is Dzaleka's journalist and a renowned DJ in the camp) to help tell a cinematic story.
Jack Thompson Roylance (Director of Photography) and Lily Colfox (Director) have funded £3,800 so far with the added support of Deadbeat Films.
Our team of Malawian creatives and members of the refugee community were essential to making sure the process was as fluid and smooth as possible and that we were considerate of all the cultural aspects and context of the areas we were exploring.


To the left is Clem Kwizombe,  Executive Producer and all round amazing human and Danny,  from Homeline Media on the sound :)


Jack Thompson Roylance, DOP to the left and Camera Assistant/BTS Photographer Benz, from Dzaleka making the process calm and enjoyable.


 Lily Colfox, Director 

THE PROJECT:

Back in March, Jack and I began shooting a cinematic documentary in Dzaleka. Capturing the lives of four different youth dance groups who had come together from different tribes in the camp to create a better life of opportunities for themselves.
Regrettably, we had to cut the shoot short by 4 weeks due to Coronavirus restrictions.

The dancers varied in ages, made up of girls and boys with an astounding amount of talent and creativity.  Continually rehearsing and training to perform their best in competitions these dancers bring joy to the camp.

We followed three female and multiple male voices within the camp that we felt had created a positive change in their lives due to their experiences within the dance community.

We want the opportunity to complete post production (editing etc) of the documentary to give these dancers a voice.



THE BENEFIT OF DANCE:

Each of the forcibly displaced persons is a survivor and has an inspiring story to tell that we can learn from.

Dance practice provides structure and routine, as well as focus and dedication that unites the different tribes within the camp, creating more harmony and diffusing conflict in an otherwise sterile place of opportunity.

The participation in the group not only brings hope to the people of Dzaleka as a whole, but through competitions and creative opportunities these dancers are generating money for their families and a passion for life. 

All of these dance groups learn from each other as they compete. The competitions bring both status and acknowledgement to the dance community. With more support this can grow.



WHY SUPPORT US?

This is a unique opportunity to support a project developed by refugees to promote mutual understanding, intercultural harmony and peaceful co-existence for the benefit of the people. 

This crowdfunder is needed to get our documentary through post production and out into the world.

The more support we receive, the stronger the voice of these dancers will become.
Our aim is to create positive awareness, internationally, for the dance groups of Dzaleka and opportunity through their exposure to people, artists, potential supporters, fans and collaborators to have a career.

This project could be the start of a new way of helping refugees to help themselves and the communities from which they come. Ultimately to try and reduce the pressures for migration around the world.

This creativity comes from within, so by connecting with a part of themselves these groups are gaining confidence and realising their inner potential of achieving their dreams.

Choose to support and raise up these people!


THIS FILM AIMS TO:  

- Empower refugees through artistic expression.
- Reduce poverty within the refugee camp by encouraging entrepreneurship.
- Facilitate the gain and exchange of knowledge through screenings and discussion.
- Enhance intercultural understanding as each member from each dance crew represents a different origin and narrative that needs to be shared.
- Change the public perception towards refugees internationally about what they are capable of achieving.
- Promote the talents and cultures of Dzaleka residents to Malawians and the international community and encourage positive discussion around the camp.
-Encourage the girls to continue dancing and realising their potential.

OPPORTUNITIES:

Hugo: 'It was a prison before, no one could go out, they had to register.'

More funding and support creates an opportunity for the dancers to dedicate time to a space where they can feel listened to, held, creative and to develop positively.  Starting with the young can help to reverse the impact of a negative past.

Let's help give tools to help the dancers to help them build their future and reduce the trauma that could be passed through the generations.

'What they need is opportunities and most importantly that they have a sense of hope.'



WHY ARE WE CROWDFUNDING?

This is a self funded project with no commercial backing.

Sadly due to the current global crisis, our friends in Dzaleka are facing economic turmoil. We are committed to funding direct action to support them during this difficult time.

£2000 will be raised to immediately keep the dancers of Dzaleka and their families safe and healthy during the economic aftermath of the pandemic. The film will also be part of a bigger plan for positive impact on the dance community to get their voices heard and to help provide them with more opportunities, collaborations and education as professional dancers.

2 dollars a month and half a litre of oil per person provided by the UNHCR is not enough to live on.

It is important to us that the collaboration with the refugee community of Dzaleka continues throughout the entire project. Hugo is also a talented DJ and Producer, and we want to pay him for his role in the production and sound design of this cinematic documentary. We also need to pay for the development of Super and film stock, as well as colour grade, motion graphics, transcribing interviews and distribution costs.

Currently the atmosphere in the camp has changed. People are more stressed as they are not able to continue with their activities in the same way as the economic impact on the camp takes its toll.


For the young men and women dancers of Dzaleka, this crowdfunder is dedicated to the dance groups: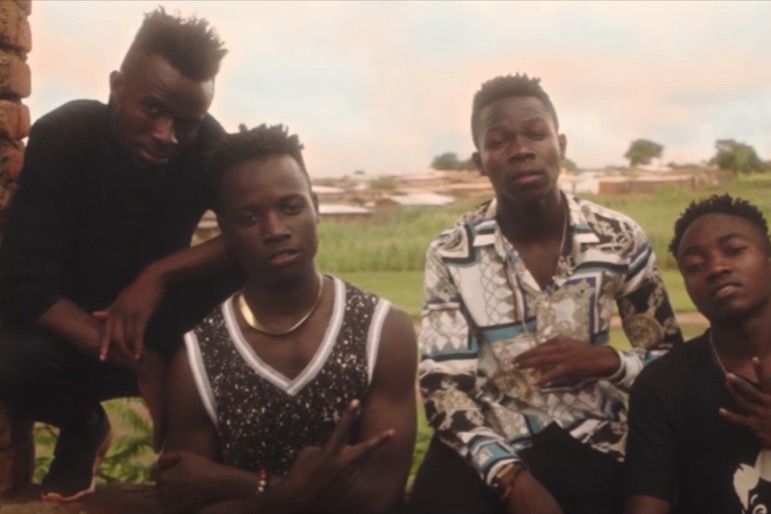 THE DREAMERS

                                                       THE VISION GIRLS

                                                          THE FIGHTERS

                                                   SALAMA AFRICA

Featuring Toussaint Farini, Manager of Salama Africa Dancers

Spiwe Zulu, Executive Producer

HOW CAN YOU SUPPORT?

Our community has the power to help support the people of Dzaleka develop and progress.

Help us to get this important documentary finished and be a part of changing the stigma associated with refugees by donating to this crowdfunder.
It means a lot to us to help our friends in the camp to feel heard.

Our overarching goal is to raise up these young men and women and bring their incredible dance abilities to the forefront of conversations. 

We truly believe in Salama Africa, The Fighters, The dreamers and The Vision Girls and we believe that their creativity can help inspire others around the world.

Thank you for getting to this page, we would be so grateful for any contribution.

BUDGET BREAKDOWN:

Funds from this kickstarter campaign will cover the costs of editing and getting the film through all the different areas of the post production process.

Support from our sound artist will fund the composition and production of an original music score. Any additional funding beyond our Kickstarter goal will fund go straight into the community of Dzaleka.
We are also creating an emergency fund to support the dancers in this time especially after coronavirus to help to encourage them through their activities, wellbeing and education within the camp so that they have a better chance of achieving their goals.

Fund raising for Dzaleka Dance Community: This includes money for soap, food, oil and gas to cook with as well as funds to help the dancers continue with their careers.

Translations
Bespoke music composed by Hugo
Development of Super 8mm Film
Video Editing
Motion Graphics
Sound Design
Colour Grade
Festival Distribution & Marketing

HUGE THANKS TO:

Jack Beattie for his amazing sound design and dedication.
Todd Speakman for the track and Becky Garner for the motion graphics.
Homeline Media, Producer Hugo, Danny and Clem Kwizombe; cinematographer and producer.
Director of Photography - Jack Thompson Roylance: in collaboration with
Deadbeat Films.

The entire crew that helped us along the way and most importantly our friends in Dzaleka.

Organiser
Lily Colfox 
Organiser
London, Greater London, United Kingdom
No.1 fundraising platform

More people start fundraisers on GoFundMe than on any other platform. Learn more

GoFundMe Guarantee

In the unlikely event that something isn't right, we will work with you to determine if misuse has occurred. Learn more

Expert advice, 24/7

Contact us with your questions and we'll answer, day or night! Learn more