Save 25 acres of endangered Atlantic Rainforest
Please sponsor your very own corner of South American Rainforest!
The Atlantic Rainforest spans Brazil and Paraguay and is one of the most threatened rainforests in the world.  Only 28% of it remains.  Ecologically, its importance cannot be overstated.  Over 52% of the tree species and 92% of the amphibians are endemic to this area.   Approximately 40 percent of its vascular plants and up to 60 percent of its vertebrates are also endemic species, meaning they are found nowhere else in the world.  The forest harbours around 20,000 species of plants, with almost 450 tree species being found in just one hectare in some occasions. [source: Wikipedia]
Put headphones on and listen to the sound of the rainforest we want to preserve: 
Last year, my family and I (I'm married to a Paraguayan, Isabel and we have three daughters, aged 5, 13 and 15) bought a couple of acres of land near Atyra in the Cordillera in Western Paraguay.  We have about half an acre of untouched Atlantic Rainforest at one end of the land and we have already started to re-forest the land, using trees native to the rainforest.  I cannot tell you the thrill we had of being able to take direct action ourselves to protect a rainforest - wow! 
My brother-in-law is a ecologist and land manager nearby.  He looks after around 350 hectares of Atlantic Rainforest as well as an organic farm, on behalf of a church retreat centre.  He is our key adviser in reforestation and he and his family live ten minutes walk from our land, which we call 'Selva Madre'. 
My girls are passionate about conservation.  The area around 'Selva Madre', is still relatively untouched.  Our forest has humming birds, eagles, nightjars, parrots, owls and toucans.  It's like an aviary! 
Anyhow, we want to think really big now! 
We now have the chance to buy 25 acres (10 hectares) of Atlantic Rainforest just a couple of miles away from Selva Madre.  Our aim is to maintain it forever in its natural state, and protect it from development. 
Aerial view of proposed forest: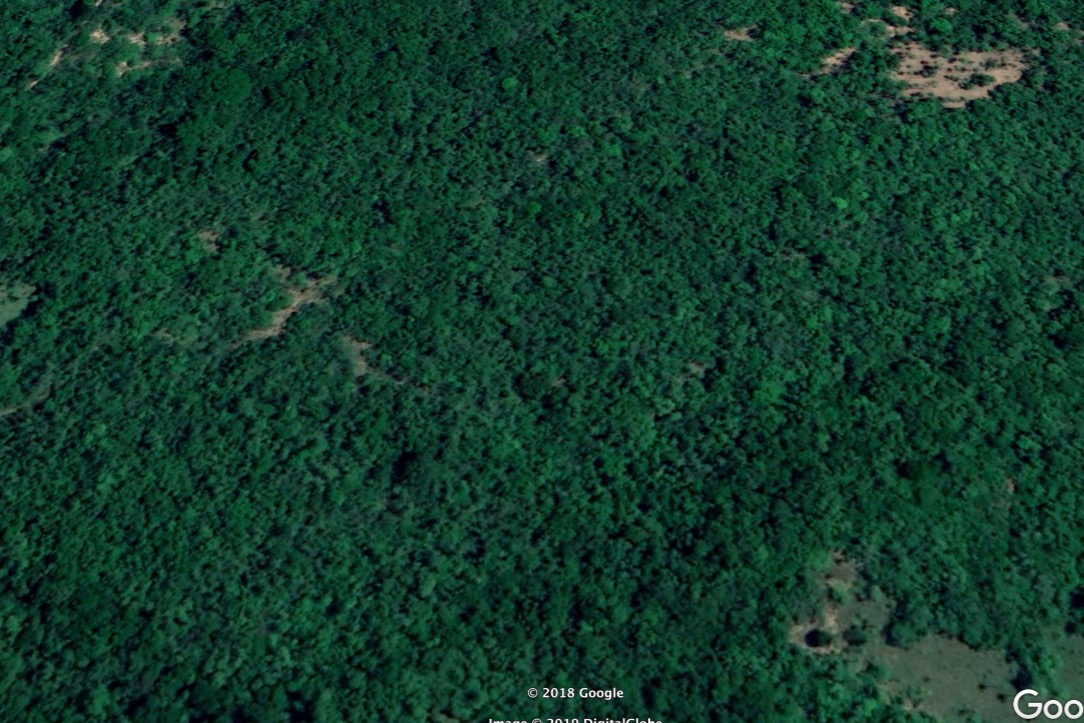 We want to offer people the chance to sponsor the purchase of a parcel of land themselves.  In this way, you can directly ensure that a piece of South American rainforest is forever protected. 
If you contribute, we plan to develop a virtual grid-map of the land and allocate sponsorship to the portion that you helped to save.  We will then take photos of your land for you and your family to cherish.  This will be your slice of protected paradise forever! We will keep a register of donors and what they have protected.  We will put a plaque in the corner of each part of the forest saying who the sponsor is. 
Here's a guide as to what your money will help sponsor:
£8,000 will sponsor an entire hectare of rainforest
£3,238 will sponsor an entire acre of rainforest
£80 will sponsor a 100 square metre area 
Now, I know that this is a big ask, so what happens if we fail to reach our target? 
My brother and sister-in-law are linked into a network of conservationists in the Paraguayan Cordillera and we will be able to secure a smaller plot of existing rainforest in the area for a similar cost per acre.  We are looking at this particular plot to begin with, however, because it is so untouched.
Lapacho trees in the forest area of our land, 'Selva Madre'
Should we fail to get enough even for another smaller plot of land, with each £5 raised, we will be able to buy a native forest tree which we will then use for reforestation on Selva Madre.
We all hiked up to a high bluff overlooking the forest:
Thalia, Emily, Sophie, Isabel and I are so, so grateful for any support that you can give us.  We would dearly love this to be just the start. We would like to continue our reforestation and protection activities in the Paraguayan Cordillera for years to come, eventually joining up areas so that the birds and animals have corridors between forests.  Thank you from the bottom of our hearts.
The 'road' to the forest:
The edge of the forest:
Isabel and Emily buying native trees for Selva Madre:
Sophie and Emily buying trees:

Organiser
Richard Anderson 
Organiser
Seaton, South West England, United Kingdom
No.1 fundraising platform

More people start fundraisers on GoFundMe than on any other platform. Learn more

GoFundMe Guarantee

In the unlikely event that something isn't right, we will work with you to determine if misuse has occurred. Learn more

Expert advice, 24/7

Contact us with your questions and we'll answer, day or night! Learn more