534
12
Help Expand Jonah's Hands To Ethiopia
$18,591
of $20,000 goal
Raised by
505
people in 5 months Hi Crochet Friends, it's me, Jonah!
One day, I was handed a bag of crochet supplies… This seemingly small gift would change my path forever. I taught myself to crochet at the age of 5 by watching YouTube videos. Now I'm 11, and I have my own crochet business called
Jonah's Hands
,  My
Instagram
  account has grown to over 191,000, and my
YouTube
 has over 45,000 amazing people from all over the world who share my love of crafts & crochet! You can also follow me on my
Jonah's Hands Facebook Page
 where I have 50,000 followers.

There are other kids just like me, living in the country in which I was born: Ethiopia. Today, I want to hand children in Ethiopia the chance to unlock
their own passion
and potential. The talent and love that came from that gift can now spread across the globe and back to the beautiful country I love so much.
I am partnering with
Roots Ethiopia
, a non-profit organization located right in the village where I was born! I love Roots Ethiopia because they are dedicated to supporting Ethiopian children and families. Roots Ethiopia focuses on two things. First, they support poor rural schools with the resources they need to help children soar. Things like desks and blackboards, libraries, and hands-on science labs are the priorities for schools. Can you imagine children not having books at school, or a place to sit? 

Next, Roots Ethiopia helps mothers with access to the least amount of resources to identify their strengths and build entrepreneurial skills to create robust small businesses. I know how a natural skill can flourish, and I want to support the success of many hands at work in Ethiopia.
I want families to work together, succeed together, and stay together in Ethiopia.
Roots Ethiopia is making this possible, and I'm ready to be part of their big, beautiful tapestry of work.
My passion and my path were unlocked through a gift of crochet supplies.
What will your gift unlock?
What spark will be ignited in the mind of a child because of you and me? My talent and beautiful work have hooked many new friends like you.
My other big dream is to return to Ethiopia. To see for myself what my hands, and your hearts, helped change. By supporting this cause together, we can make that happen.
Help me give back to my homeland, to the place where it all started.
50% of the donations to this GoFundMe campaign will go directly to
Roots Ethiopia,
The other 50% will have several objectives. It will help me take my first trip back to Ethiopia since I was adopted as a baby, to ~~``spread my love of crochet there, in person. In addition, funds will also allow me to invest in my new business, Jonah Hands. Lastly, money will be used to further my education as I hope to one day becomes surgeon.
The funds from this campaign will go directly into my mother's (Jenn Larson) bank account. The money will be distributed to Roots Ethiopia by a certified check.  
When you make beautiful things, you can make things beautiful. Now it's time to hook the world!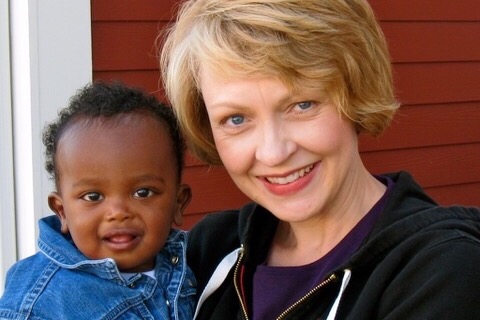 + Read More