The Mush Hole Film Project
£600
of £6,500 goal
Raised by
8
people in 5 months
"The fruit of your destiny is the roots of your past."
The 'Mush Hole': Legacy of a Canadian Residential School Feature Length Documentary
Across the span of 130 years, approximately 150,000 First Nations children were placed in roughly 150 residential schools across Canada. These children were stripped of their language and culture to conform to the white dominant society. This film will tell the stories of trauma and abuse experienced by school survivors, as well as their resilience and healing. This film needs to be made NOW so that these critical first-hand accounts are not lost. It comes at an important moment politically, as one of the recommendations of the recent Canadian Residential School Truth and Reconciliation Commission (TRC) was to raise awareness of the residential school experience.
'The Mush Hole' will tell the story of the Mohawk residential school in Brantford Ontario; one of the last remaining  schools in Canada, and currently being restored as a museum as part of the part of the
Save the Evidence
 campaign. Survivors' art, first hand accounts and never before released historical documents will build the story as we progress through this chapter of Canadian history. The film will explore how and why the residential school system was established and also tell a more recent story; the limitations of the recent TRC and lessons that can be learned. The film will uniquely expose the role of the perpetrators through the use of historical evidence from the Anglican Church, Canadian government and testimonies of survivors. 
This project will be used to raise awareness and as a platform for further funding of the
Mohawk Village Memorial Park
. This is being built on the site of the Mohawk Residential school to honor the legacy of children that attended residential schools, and as a unique space for healing and education.  
What has been completed so far:
A 15-minute film has been produced about one of the Mush Hole survivors,
Robert Gary Miller.
  In this film, Gary expresses his story of being forcibly removed from his home at the age of three, and his legacy of abuse and hardship at the Mohawk Institute. He also shares his arduous journey of seeking healing and a platform for reconciliation through his art.   
The short film will have it's international premiere at the
Crossover Film Festival
  in Woodbridge, Virginia on November 4 2018.  It was selected as 1 of 24 films out of 700 submissions! The film was awarded by the film festival judges Best Short Documentary Film!
https://www.crossoverfilmfest.com/cffblog/best-documentary-film-the-mush-hole
Filming has already been completed with the cast detailed below, and we have several hours of compelling interview footage with Mohawk Institute survivors and a historical expert. We have footage of the interior and exterior of the Mohawk Institute, and have analyzed a wealth of rare government and church archival data to compliment the survivors' accounts.
Meet the cast:
I am Franz Stapelberg; a South African human rights filmmaker and the director and producer of this film. I initially became involved in this film out of interest to compare the truth and reconciliation commissions in South Africa, Canada, and Rwanda (where I lived and worked for a few years). Through collaborating with this incredible team, this film organically evolved into what it is today. I take a participatory approach to documentary filmmaking, where the contributors help shape and create the film. This documentary is led by survivors of and experts on the Mohawk Institute Residential School. All of them are using innovative ways to ensure their powerful stories are not lost, whether through creating fine art, public lecturing at schools, authoring a book, poetry, or historical research and education. 
Roberta Hill: Co-Director of the Mush Hole, Survivor of the Mohawk Residential School, Chair for Board of Directors of the Mohawk Village Memorial Park  
Geronimo Henry: Survivor of the Mohawk Residential School and Public Speaker on the Residential School Experience 
Bud Whiteye: Survivor of the Mohawk Residential School and author of 'A Dark Legacy'  
Robert Gary Miller: Survivor of the Mohawk Residential School and creator of the 'Mush Hole' paintings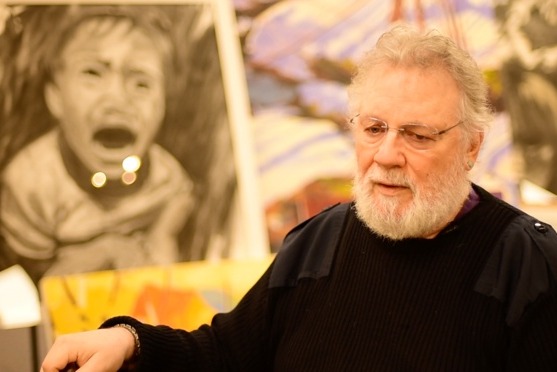 Dr. Wendy Fletcher: Residential School Historian and Professor, Anglican Priest, President and Vice-Chancellor of Renison University College
Shelley Clark: Second Generation Survivor of the Mohawk Institute and poet about the residential school experience
The film also highly benefits from the involvement of Dr. Alicia Kroemer and Dr. Erin Stern as line-producers and researchers. Dr. Alicia Kroemer completed her PhD thesis on the Canadian residential school experience, and her thesis provided the platform for this film collaboration.
What will the funding goal be used for?
The funds will be used for post-production for a feature length documentary. Funds are needed for the following tasks: 
Score composition and recording
Editing
Sound Editing
Visual Effects
Colour grading
Final mastering  
We will also use the funds towards getting additional footage of the Mohawk Institute building, which is currently being resorted, as well as more observational footage of the contributors, especially their creative endeavors. Any further funds raised will be donated to support the
Mohawk Village Memorial Park
. This film will also be used as a platform to raise awareness of and funding for this critical initiative. 
Final Words
We would be so grateful if you could support the production of this important documentary by contributing to this campaign in any way you can. We would also like to thank those who contribute through the following fantastic rewards!  
Shout outs will happen weekly, and regular updates on the status of the short and feature length films will be shared on the
Facebook page
 , as well as on this Go Fund Me page.  
Reward Levels
10 GBP
Thank You: We will give you a shout out on our Facebook and Go Fund Me Page  
20 GBP
Thank You and Screening : A shout out on our Facebook and Go Fund Me page + Access to a link of the film  
200 GBP
Thank You, Screening and Film Credit: A shout out on our Facebook and Go Fund Me page + Access to a link of the film + Listing in the final credits with 'special thanks'   
1000 GBP
Thank You, Screening and Producer Credit: A shout out on our Facebook and Go Fund Me page + Access to a link of the film + Listing in the final credits as 'Associate Producer'
+ Read More
Update 1
20 days ago
Share
Hi Everyone,
I want to send out a heartfelt thank you for your generous contribution to this film. The editing process is coming along very well, and we are on track to have a feature length version done by early next year. I wanted to share the good news that the short version of the Mush Hole has been accepted for its international premiere at the Crossover Film Festival in Virginia, US and has been nominated for best documentary. You can see more information about the festival and nominees here:
https://www.crossoverfilmfest.com/nominees2018
Thank you again for believing in this project and I will be in touch with more updates soon!
+ Read More