URGENT! HELP US SAVE 150 LIONS
£259
of £30,000 goal
Raised by
8
people in 12 months
'SANCTUARY' THE LION RESCUE AND REHABILITATION TV & CONSERVATION PROJECT
- PLEASE VIEW CLIPS FROM PREVIOUS VISITORS [THIS IS NOT OFFICIAL PROMO!] -
https://youtu.be/Tp_7ohzQCmY
YOU have the golden opportunity to invest in a unique Lion Rescue Project currently taking place in South Africa with a relocation program in Botswana for rescued Lions from a Canned 'Incarcerated' Hunting Farm. We have till the end of August to raise the money!  Lion Cub/Wolf clip -
https://youtu.be/KqFZJ8JTtqE
WE are looking to raise around £30,000 GBP $42,000 USD to produce a video for the 'Vision Africa' Conservation Lion Project which is dedicated to the preservation and conservation of African Wildlife through practical solutions, education and awareness.  Buffalo clip -
https://youtu.be/ZkHFzvqy_h0
WE intend to produce a 10 minute 4K high quality video education and awareness film for the charity in order to save these lions and their cubs lives. The video will be circulated on social media in order to fight future 'hunting to extinction' organisations and poaching groups within Africa.
Currently there thousands of lions living in canned-hunting 'incarcerated' facilities throughout South Africa, which are predominantly stocked by the 'cub-petting' trade. The majority of these facilities are over-stocked, with lions living in cramped and horrendous conditions... some with as many as 25 lions in a 50m x 50m enclosure! They are destined for the 'Canned hunting industry' and we are concerned they will also be part of the bone trade or other body part markets.
Dedicated conservationists have been working relentlessly saving a group of lions for a long time now and the situation is becoming more urgent. Bad practices are occurring there and the outlook for the lions there is not good.We're currently erecting semi-wild camps of up to 50 Acres each, which is enormous compared to what the lions have had to live in. This will enable the lions to undergo their rehabilitation in our safe sanctuary setting, starting out in smaller camps, to familiarise themselves with their new surroundings.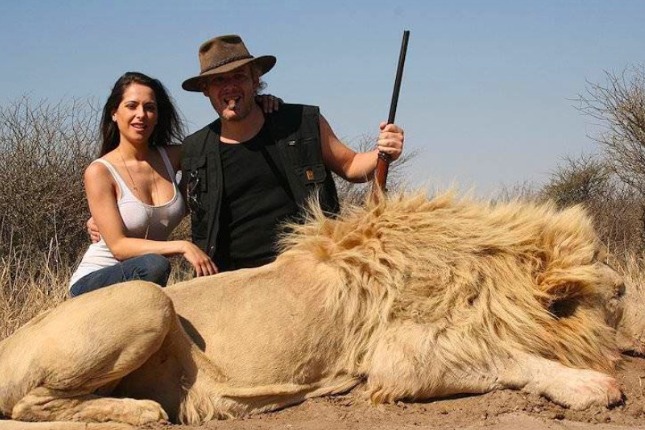 WE
want to
PREVENT CANNED HUNTING
continuing;
YOU can help now! by donating ALL or IN PART the £30,000 GBP we require to make this TV pilot and video marketing for the organisation. The TV Pilot will be produced and pitched to the largest broadcasters worldwide such as NatGeo International, Discovery, BBC, and others.
LION RESCUE VIDEO EXPEDITURE: August 2019 - June 2020
Three week Production Unit Equipment;
Director/Producer/Cameraman and Kit hire, 4 x Crew - Duration 3 weeks 2 x 4K Sony FS7 HD Camera Hire, FS5 Camera, Radio Mics, Tripods, Lights, Editing facilities, H6 Zoom recorder, accessories,
Sony 4K FDR-3000 camera - Wide Angle Lens Hire &
Car mounted tripod hire, Hard drive purchase.
Drone Operator Hire - 2 days @ £1,000 GBP per day Media Insurance/Inoculations - kit and wellbeing
Crew Flights, accommodation, living and travel costs Post Production, Sound, Graphics Upload
EXTRA DONATIONS WELCOME FOR EXTRA FILMING!
£30,000 GBP - $42,000 USD
The plan is to create a working model on how to close breeding farms down ethically and responsibly if some breeders/owners want to stop the farming or if the authorities force a closure. The current argument by the lion farmers/hunters is that they have to keep hunting, trading and breeding to raise funds to sustain the lions at their centre. OUR MODEL will prove this false and provide a working strategy to follow in order to stop the hunting and trading.
The only way forward from here is to actually purchase the breeding farm (which we are focused on) if we want to save these lions and also create the model as described. Part our our work is to provide immediate veterinary care to all the lions there (we estimate around 150), enlarge all the lion holding camps significantly and to provide enrichment and improve their quality of life.
WE will not be breeding the lions as I believe that lion breeding is unnecessary and should be very strictly controlled. Breeding of more lions will further the problem we are trying to correct.
THIS is not a jolly.
The investors/sponsors shall be elevating this project to a wider audience and saving over 150 Lions lives and cubs! YOU WILL BE ensuring the survival of an apex predator and arrangements can be made with the Sanctuary for contributors to visit with all costs and expenses covered and consider the potential 'network' deal further down the line with a major broadcaster and you investment seen worldwide! The production will be shot in the highest quality of kit and be an essential part of 'Vision Africa' realising a dream to buy the land required and to re-house these magnificent beasts in the right environment.
BUYING THE LAND + BAN LION FARMS
The land will cost the charity $2 million USD to sustain the 150 Lions that are in trouble. Regular TELEVISION coverage will greatly assist in OUR efforts to gain the funds needed to buy the property with the lions. WE will be able to gain widespread awareness and publicity for our projects, the greater project to help as many lions in these conditions as possible and it will allow people around the world to find us and work with us on this project. This is ONLY possible if we obtain investors to shoot a high quality pilot and marketing tool to raise more funds for the purchase of the land the Lions will be relocated too.
This is a massive project,
WE are saving 150 lions from a terrible fate,
WE are taking the responsibility of ensuring their continued safety and care and we are taking on a powerful industry who will not be happy with our efforts to stop the industry entirely!
This is A VERY UNIQUE PROJECT
and a first of its kind. It not only is raising awareness of the problem (there are many hunters doing this already) but it also provides a strategy to follow on how to stop the breeding/hunting/trading of lions in captivity and we will assist any willing breeders if they are willing to stop their practises. This is a working project and we will lead from the front. We will have all the same challenges (in terms of funding the project to sustain the lions) as the breeders, but we will show we can do it without the hunting and breeding part.
FILM - EXPOSE - BROADCAST - SAVE!
THIS PROJECT will make for very controversial viewing
. Many people around the world who also abhor the canned hunting practice and who would like to stop the very terrible way these lion farms raise and keep lions. WE WILL bring together many of these people and provide a way for them to actually help in the ground work to make it happen. This project will be a tool to do this, not just raising awareness but creating the sanctuary and model to close other breeding farms.
THE DAY TO DAY
running of the sanctuary will have many unique and interesting challenges. WE will be building much larger enclosures for the lions. Some of the enclosures are just 50 x 50 m in size and have up to 25 adult male lions in one enclosure. TWO WOLVES are also present in enclosures.
WE WILL
be caring for lions on an individual basis and the personal story of some of the lions will keep people focused on this project. WE PLAN to not breed any more lions once we have the farm and our volunteers will understand that helping lions requires hard work with real management, not just raising baby lions. THERE IS also a major threat to the lions safety from poachers. There has been lions poached for body parts on this farm already and we will have to do a lot of security work to ensure their safety.
Part of our strategy is to incorporate volunteers in our day to day running of the sanctuary.
THERE WILL be a lot of work on a daily basis.
We feel that this is a fair strategy as the volunteer travel industry had a large influence on the breeding of lions (many breeders bred extra lions so that young people from around the world could come and raise baby lions. This had a very negative effect on breeding farms as they had to breed more lions than they needed on a yearly basis to cater for this demand). BY including volunteers in the "clean up" of a very bad industry it will begin to actually contribute in a positive manner. We plan to not breed any more lions once we have the farm and our volunteers will understand that helping lions requires hard work with real management, not raising babies.
WE WILL
also move some of the lions to our existing lion project on our home reserve and let them live in a more natural environment. This will be an interesting part of our work and will work well with the video marketing and TV Pilot.
WE ARE
also in the process of setting up a lion sanctuary in Botswana (we have secured a large reserve there) and are busy with the permit applications. This will add another dimension to our work and will make the project complete in its efforts to help lions. The Botswana sanctuary will provide very large areas for some of the lions to live their lives in semi-freedom. It is illegal to release captive lions into the wild. This will come as close as possible to the wild and we are very excited to move at least a few lions into the semi free camps!
ALL THREE SITES AND RESERVES
are within 100km radius of each other and together they will provide much to document and keep people very interested in the different projects and lives of specific lions.
THE VOLUNTEERS
coming to assist us will also help in generating interest as this will be a collective effort and everyone involved will be very important in making this happen!
THE GREATER CAUSE
in trying to stop an entire industry will also make for great viewing and WE ARE very sure that this will become a very popular project and series.
WE ARE
very passionate and willing to do what must be done to stop the unethical and terrible treatment of lions in appalling surroundings. We want to at the very least, ensure that the minimum standards for keeping lions is vastly improved. Ultimately we want the whole industry to stop but it will take time and long term, responsible work and strategies to effectively achieve this.
THIS PROJECT will need to be done with a very specific focus...'The lions and the greater problem'. We want to use this to stop an industry so this video coverage must enable this to happen!. It must be able to interest all focus groups and be professional and correct in its research and statements. This project could possibly change everything and WE WANT this filming to help in this!
It must show the reality in what is currently happening, the disgusting conditions the lions are kept in, and how the practice of CANNED LION HUNTING and BONE TRADING is actually done! There will be a lot of resistance from the breeding and hunting industry. All must be documented correctly and truthfully to make the world aware of this problem.
Lion bone parts taken from Lion for the Chinese potion industry and 'Witchcraft' rituals.
Please help us make this educational legacy film and help us raise the profile of this rescue and conservation madness! Contact; Steve Mackay on the details below; and donate and let us meet our target rapidly! We don't have long to buy the land and ship the Lions out! 
STEVE MACKAY WILD PLANET FILMS
K20 Moments -
http://smacktelevision.wixsite.com/creative/k20
PREVIOUS TV/FILM BROADCAST LINKS
K20 Trailer -
https://vimeo.com/205439477
Showreel 2018 -
https://www.youtube.com/watch?v=oKnE0DUwUI0&t=3s
K20 Episode 3 [Rough Cut]
http://vimeo.com/250267903
- Password K2O3 (Capital 'o' not zero!)
Wild Planet Showreel -
https://vimeo.com/223252416
White Lions 360VR -
https://vimeo.com/205449120
The Last Wilderness -
https://vimeo.com/248094966
The Fish Finder - Amazon Extreme Fishing Pilot -
https://youtu.be/Va7dYySszFQ
Re-Wilding The Eurasian Lynx -
https://youtu.be/sWiS2VoAtuw
Red Squirrel Sanctuary -
https://www.youtube.com/watch?v=jlDcFxfB2x8
Madeleine's Wildlife Diaries -
https://youtu.be/TfNMI3Lm1-k
Highlights -
https://www.youtube.com/watch?v=gWOVHPufTCc
Scottish Government Referendum 2014 -
https://www.youtube.com/watch?v=SYZmU9Yc3vU
YOUR INVESTMENT MEANS
YOU will help US, Save 150 Lions from incarceration
and live better lives. And contribute to stopping the whole 'canned' lion hunting industry.
WE CAN
film both an online 'Viral social media marketing video' to promote the fundraising required to purchase the 'Canned Lion Farm' and produce a '4K TV Pilot' to present to our major TV Network contacts.
YOU CAN
have your branded media on the finished video productions especially the social media video promo. Duration between 5-10 minutes long.
YOU have a TAX BREAK
opportunity! and consider becoming a PATRON of the organisation! FUTHER OPPORTUNITIES
YOU
have the opportunity to be part of a worthy moral quest and there is an opportunity to invest in the purchase of the 'Lion Farm' estimated at $2 Million USD. Plus 10% return of investment and great exposure and marketing.
YOU can visit the project for 2 weeks every year for three years.
Investors who fund the project will receive their investment back as well as 10% per annum over 3 years along with their initial investment.
THERE is a option to buy a house
for sale on the Lion Sanctuary and be close to the project. It must be made clear that The Project leader is looking for investment only and not a business partner. Again 10% return on house purchase.
AN OPPORTUNITY to appear in the documentary promo
, pilot and even series but this is open to negotiation and discussion and this should not affect the budget requested!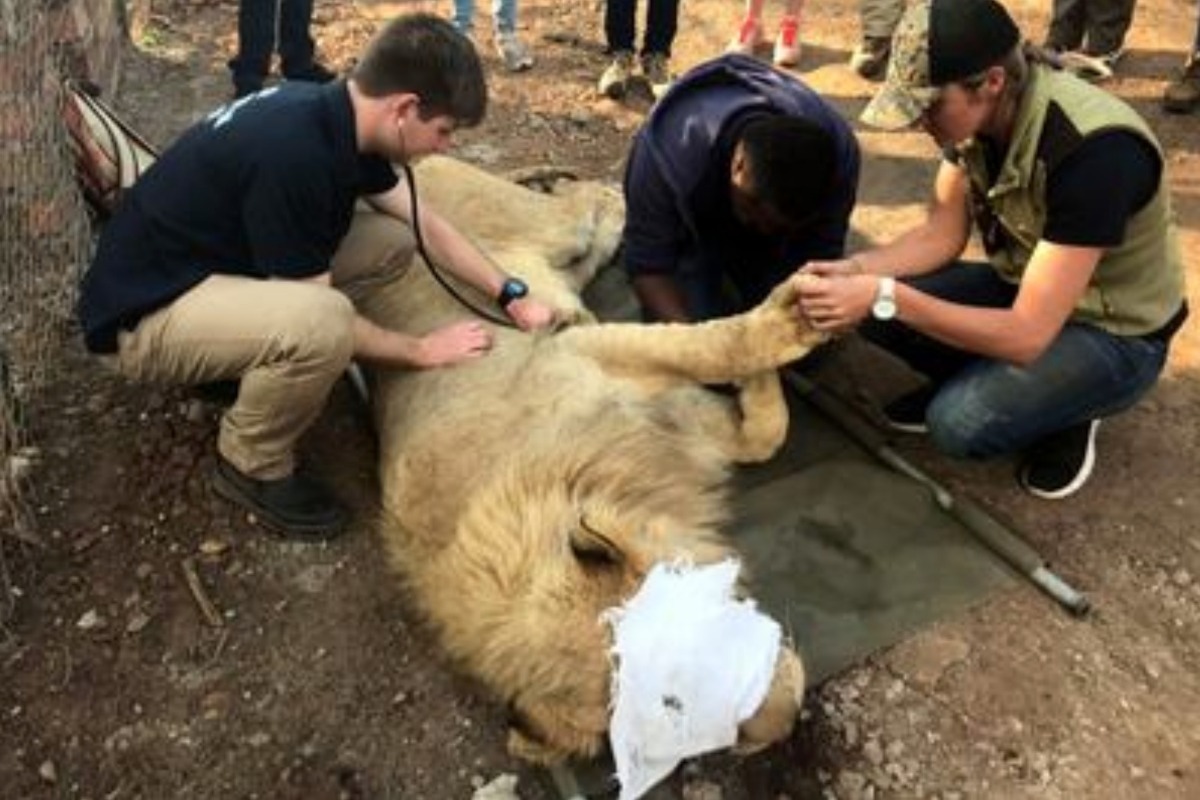 FILMING FEATURES AND EVENTS
WE WILL be filming the Lions cub
s that are kept in the canned hunting centre, showing the feeding and enclosures they are kept in along with the adults. The Lion rescue and rehabilitation. They will be housed in smaller enclosures and reintroduced to the larger camps on a daily basis. This is referred to as bush-schooling. After the rehabilitation period, the lions will be transferred to the large camps permanently in structured prides of 7 lions per camp.
THE PROJECT also deals with wolves
that have been rescued from the pet trade. These WOLVES are usually completely domesticated because of living in their unnatural environment. There is currently one male and one female in the sanctuary. This section of the sanctuary is in an 'experimental' stage where we will try to train these domesticated wolves to help in the efforts against poaching of the game animals. If this initial training process is successful, more wolves will be rescued and added to the 'team'. It's also possible that if many wolves are rescued, they may be returned to Canada, which is their natural homeland.
Interviews will be conducted with the organisation and their plight to save 150 Lions and the logistics and politics in saving this great beast. Filming in Lion Sanctuary in Northern Limpopo. This will be our main focus of the story. the second location is the Game Ranch - 60Km to the west and half way between the Botswana property and Lion Farm. Then the Botswana property 80kms from Lion Farm. Focus on Canned Lion Industry and how bad it is, and also stop the industry through providing a working model and creating widespread awareness globally.
WE WILL highlight the huge threat from poaching
and the creation of a strong anti-poaching program is in place. This material will be short firstly for online presence and a 5-10 minute promo shall be produced, then the rushes will be cut together and presented to major networks like National Geographic International, Discovery, and BBC for consideration. We're presently are talking with Nat Geo International at the moment.
FILMING FEATURES AND EVENTS
WE INTENDED to start filming
at the end of August through September but that maybe a little tight now. 
TAKEOVER OF LION FARM is AUGUST 2018
. Filming can commence hereafter once lions have been paid for and contracts signed. Health checks on the Lions and sterilization of the males.
THE CREATION OF PRIDES
with then take place as most Lions are young and in incorrect sex ratios. The Enlargement of all Lion facilities to make bigger and better environments. We Will set up security and CCTV everywhere.
START VETERINARY WORK
on all Lions needed. Food sourcing is a huge job - we are considering moving some Rhinos there as a temporary home before moving them to Botswana, and we will move a dozen Lions in April to our present Lion Sanctuary. We intend to film the Educational Volunteer Projects that presently exist too.
PLEASE 'GO FUND US!' WE'RE RUNNING OUT OF TIME!
http://smacktelevision.wixsite.com/creative/lions
+ Read More